Welcome back! Today we're talking #protein. You know, the most popular topic in nutrition and fitness (next to avocados). If I made a graph to represent how many people care about protein now to how many people cared 10 years ago, it'd probably look something like this: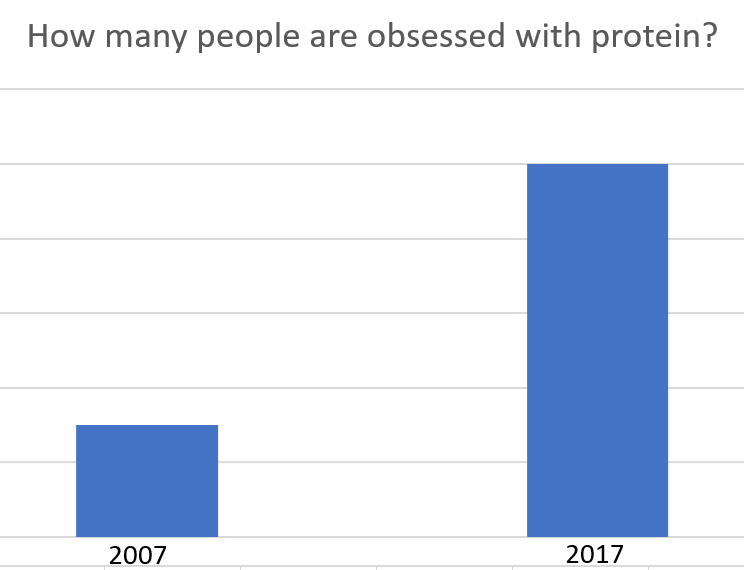 So, with fads come false information, and it's getting trickier to figure out what is legit and what is nonsense. Here are a few facts that might help clear things up, and hopefully make it easier for those interested to pay more attention to their intake.
 
How much protein should you get?
According to dietitians, the recommended daily intake for protein should range between .8 and 1.2 grams per kilogram of body weight. (Thanks for making us do math, dietitians and whoever decided we should abandon the metric system!) 1 lb = 0.454 kg. So say that you are a 140 lb person- that's 63.5 kg. Your recommended protein intake is around 50 to 77 grams.
"But what does this actually look like?" you say?
Let's say you eat 5 times a day: breakfast, lunch, dinner, and two small snacks. You might shoot for about 15-20 grams of protein at each meal, and maybe 5-20 grams in a snack.
A few snack ideas within the target protein range:
hard -boilded egg: 6 g

1 cup greek yogurt: 20 g

Handful of nuts: 6 g

Light string cheese: 6 g

Protein bar: 14-25g

Protein shake: 20-30 g
A few ideas to include in your meal:
One serving of oatmeal: 5g

One serving of rice: 4g or quinoa: 5g

a serving of lean meat or fish: 15-30g

One serving of beans: 5-8 g
Does my exercise routine matter when accounting for protein?
Yes! While the general recommendation sticks, you'll want to be on the higher side of protein if you are strength training or trying to lose fat while resistance training. On the flip side, those cario enthusiasts out there (long distance runners and bikers) might feel better with a slightly lower protein goal, as they aren't necessarily trying to grow their muscles.
Should I care more about protein than I do?
That depends. Remember that graph earlier? The level of attention to protein intake has skyrocketed lately, but I bet you or your parents and their parents never lost a moment of sleep thinking about protein, and they turned out just fine. If you are interested in nutrition or have specific fitness goals, it would behoove you to consider this macro nutrient a bit more.
Can you estimate about how much protein you get in a day? If you can and you're in the comfortable range, then keep doing what you're doing. If you know you're not getting enough protein, make an effort to include more protein-dense options for the next couple weeks and see how you feel. If you have no idea, maybe pay attention for a few weeks with a food journal and see where you're at!
Protein bars, shakes, and supplements
Tread carefully here, folks. Protein powder and supplements are not regulated by the FDA to ensure the ingredients are safe and free of contaminants. Now, competition drives quality and you can find tons of brands that promise clean ingredients and minimal additives, and those are the products you should look for. As a rule of thumb when buying powders and bars, glance at the sugar content and the ingredient list. I like to keep sugar under 13g for protein bars, only because the natural bars tend to have more natural sugar. If you look at the ingredient list and see more than 10 listed, look more closely. Artificial sweeteners are common, and while some are better than others, most can cause gas and digestive issues, especially in large quantities. AKA, if you see a bunch of words that end in "-ose," steer clear!
Also, the source of protein is important too- I won't go into too much detail here, but the general rule of thumb is that really cheap products are lower quality. This isn't to say you should only buy the most expensive brands, but it's my opinion that not all protein is created equally, and the extra crap in lower-quality protein sources should be avoided. A few brands I love are Quest, Oatmega, VegaOne, Optimum Nutrition, and Epic. A few I try to avoid are ThinkThin (sugar alcohols), Cliff and Cliff Builder (holy sugar), and the surprisingly cheap powders on the sale shelf at Target and Marshall's.
I hope this cleared up a few questions you had. As a last note, the popularity of protein is largely due to a wider understanding that protein can help people lose weight. This is sort of true, weight loss is pretty much determined by creating a calorie deficit. Protein is great because it can help curb appetite by regulating insulin and Ghibelline-producing hormones, but simply adding a few protein shakes and chicken breasts to your diet won't cut it. In my skeptical view, I also think people who start paying more attention to protein also pay more attention to calorie intake in general, which is important in weight loss. Like everything, there's a balance.
Have any favorite snack or meal ideas to share? Let us know in the comments!!